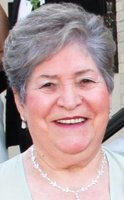 Erasma Mitrano
Erasma Mitrano," Mina" 95, passed on Friday, July 5, 2019 in North Plainfield.
Born and raised in Gaeta, Italy, Mina arrived in the United States along with her husband Cosmo, daughter Elena and son Franco in 1966 and settled inSouth Plainfield.
Mina enjoyed gardening, cooking and knitting but found most pleasure in spending time with family.
Predeceased by her husband Cosmo, Mina is also predeceased by siblings, Caterina Cavicchio, Cosmo Eliante and Sandro Nardella, a great grandson Danielle and a son in-law Salvatore.
Surviving are her children, Elena Gulyas and her husband Jesse of North Plainfield, Pina Buonomo of Italy, Marisa D'Angelo and her husband Giacomo also of Italy, Franco Mitrano and his wife Joanne of South Plainfield; sister Anna Buonomo of Italy; grandchildren, Antonio and his wife Maria, Mina, Massimo and his wife Lucilla, Paula, Orazio and his wife Monia, Debbie and her husband Heinz, Dana, Eddie and his wife Lisa and Mark and his wife Caterina and great grandchildren, Giorgia, Salvatore, Roberta, Giulia, Christopher, Gina, Giulia, Nicholas, Francesca, Marco, Jonathan, Luciana, Gloria, Elena, Davide and Claudia. Also surviving is a great great granddaughter, Mya.
Visitation will be held on Wednesday, July 10, 2019 from 4-8pm in the funeral home.
Funeral Services will be held on Thursday, July 11, 2019 beginning at 9:15am in the funeral home followed by a 10am funeral mass at Sacred Heart RC Church, South Plainfield.
Interment will follow at Holy Redeemer Cemetery, South Plainfield.