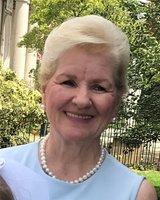 Deborah A Swahla
Deborah Ann Swahla, 67, passed away quietly at home surrounded by family on Monday, September 9, 2019. Deborah was a loving daughter, sister, wife, mother and grandmother. She is survived by her mother, Stephanie Milnicsuk; husband John Swahla; daughter and son in law Rachel and Thomas Watlington; son and daughter in law, Dennis J. Jr. and Amanda Yuhasz; granddaughters, Paige and Payton Yuhasz, as well as several other family members.
Deborah was employed at Johnson & Johnson Corporate for over 30 years and retired a few years ago. She was looking forward to her retirement.
Deborah loved her dogs, Blossom and Dancer. She loved to decorate was an amazing cook with a glowing personality that was infectious. She also enjoyed watching Lifetime movies and QVC
with her husband, John. Deborah enjoyed hosting holiday dinners, and she truly loved her family.
Funeral services will be held on Friday, September 13, 2019 at 10AM in the McCriskin – Gustafson Home For Funerals, 2425 Plainfield Avenue South Plainfield NJ 07080. Burial will follow in St. Gertrude's Cemetery, Colonia.
Family and friends may gather in the funeral home on Thursday from 4-8PM.