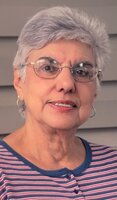 Carmella "Millie" Cleary
Middlesex, NJ – Carmella "Millie" Cleary, 86, passed away on Friday, September 10, 2021 at Bridgeway Care Center in Bridgewater. Born in Pittston, PA to the late Salvatore and Rose (Insalaco) Cupano, Millie resided in West Orange, Piscataway, Edison and has been a resident of Middlesex since 1994.
She worked for Michael J. Jenkoski, CPA in New Brunswick as an Administrative Assistant. Millie had a love for bowling, scrabble, reading and watching game shows; especially Jeopardy and Wheel of Fortune. Millie could often be found traveling with the "Travelling Seniors," but above all things, her family was the utmost importance.
A loving mother, grandmother and sibling, Millie is survived by her three children; Nancy Bonello and her husband Tony of Middlesex, Michael of Middletown, DE and John of Troy, NY. She also leaves behind four loving grandchildren; John Andrew, Ann Marie, Julia and Jolene as well as two siblings; Mary Kelly and Charlie Cupano and her lifelong group of close friends.
Millie was predeceased by three siblings; Connie Paolella and Salvatore and Joseph Cupano.
Visitation will be held in Middlesex Funeral Home, 528 Bound Brook Road, Middlesex, NJ 08846 on Monday, September 13, 2021 from 4:00pm until 7:00pm and on Tuesday, September 14, 2021 beginning 8:15am.
Funeral services will be held in the funeral home on Tuesday, September 14, 2021 at 8:45am followed by a 9:30am funeral mass at Our Lady of Mount Virgin Church in Middlesex. Burial will follow at Resurrection Burial Park in Piscataway.
In lieu of flowers, donations in Millie's name sent to the Middlesex Rescue Squad would be appreciated.