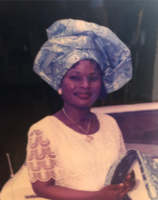 Irene Oghogho Omoregie
On Wednesday, October 6, 2021, Mrs. Irene Oghogho Omoregie (nee Okungbowa), 61, passed peacefully into eternal rest surrounded by loved ones.
Mrs. Omoregie was born in Benin City, Nigeria, where she spent most of her early years growing up; she later migrated to Baton Rouge, Louisiana, to unite with her husband, Mr. Charles Omoregie Sr., where they resided for over 15 years and welcomed their two sons, Charles Omoregie Jr. and Jeffrey Omoregie. She attended Southern University and received a Bachelor's Degree in Accounting and Master's degree in Public Administration. She and her husband, Charles Sr., relocated to Piscataway, New Jersey, in 1989, where they raised their family.
Mrs. Omoregie was an active parishioner at Our Lady of Fatima Church in Piscataway; she was always willing to lend a helping hand as a Eucharistic Minister, Lector, President of the Legion of Mary, and Lazarus Minster. She was also a counter for Our Lady of Fatima and she assisted with any tasks, big or small, that Father Paul required of her.
Mrs. Omoregie was a devoted wife, mother, and grandmother who enjoyed family gatherings, listening to Christian music, visiting sanctuaries, and dancing.
Mrs. Omoregie was predeceased by her son Charles Omoregie Jr., who passed in 2000. She is survived by her husband of 45 years, Charles Omoregie Sr., and son, Jeffrey Omoregie and wife, Kelly, and their cherished grandchildren, Jayden and Omari.
She is also survived by her siblings: Mr. Nosa Okungbowa, Ms. Osamede Okungbowa, Pastor Andrew Okungbowa, Dr. Roland Okungbowa, Mrs. Imuentinyan Igbinovia, and other brothers and sisters, nieces, nephews, cousins, and friends whom she maintained communication with throughout the years.
We will greatly miss her, but we find comfort in knowing she has departed to be with the Lord.
Family and friends may gather for the wake at the funeral home on Friday, October 22, 2021, from 3:00 – 8:00 PM.
Funeral services will hold on Saturday, October 23th, 2021, at 9:30 AM in the Piscataway Funeral Home, 18 Stelton Road, Piscataway, NJ 08854, followed by a funeral mass in Our Lady of Fatima Church at 11:30AM.
Burial will follow in Hillside Cemetery of Samptown, 1400 New Market Avenue, South Plainfield, NJ 07080.
Refreshment follows at 1711 Brunella Avenue, Piscataway, NJ 08854.
In lieu of flowers, any donations that they would like to send they can zelle to jeffomoregie@gmail.com