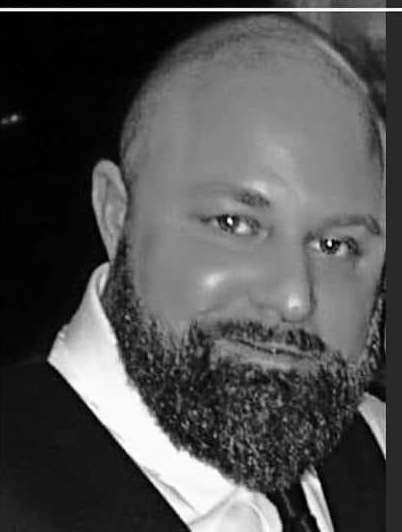 Obituary of Phillip T. Riley
THE LINK FOR THE LIVESTREAMING OF SERVICES WILL GO LIVE AT 2:30 PM. THIS WILL BE FOR THE SERVICES TAKEN PLACE INSIDE THE FUNERAL HOME FROM 2:30 PM TO 3:30 PM.
Phillip Thomas Riley
September 25, 1974 – February 5, 2021
Phil passed away in his home in Bridgewater on Friday morning. He is survived by his fiancé DawnMarie, his two beautiful daughters Kaylee and Nola Riley, their Mother Stacy Riley, Mother Cindy Hauer, Stepfather John Hauer, Father Phil Riley and Stepmom Jan, as well as all his "Brothers in Blue."

In his early years, Phil was a gifted, multi-sport athlete recruited to North Carolina Wesleyan on a golf scholarship. It was during this time that Phil developed a passion for body building and competed in a handful of competitions in his early 20's. That passion continued throughout his life and he happily shared fitness and nutrition tips with anyone who asked! Phil later transferred to William Patterson University in Wayne, NJ to be closer to home, graduating with a degree in Criminal Justice. After graduation, Phil had a singular goal of becoming a police officer. He held those who served in the highest of regards and his dream was to join the ranks of the Thin Blue Line. Phil began that journey while still at William Patterson working security jobs to gain experience as he pursued his degree. He eventually worked his way on to the security team of Yankee Stadium, serving as personal security for many high-profile players in the late 90's early 2000's. After a few years of perseverance, he was ultimately selected to join the NJ State Police Academy. Phil was assigned to the New Jersey Department of Corrections where he served for more than 21 years. During this time Phil was called upon to assist other departments and agencies throughout the state where he developed a wide network of friends and colleagues he considered his family and touched hundreds, if not thousands of dedicated professionals. Phil's most recent assignment was at the ADTC in Rahway, NJ.

While Phil was incredibly proud to be a NJ Law Enforcement Officer, nothing compared to the pride he had for his two daughters Kaylee and Nola. A glimpse of Phil's social media leaves no question as to his love and dedication to his beautiful girls; they were his world! He set an example for others as to what it means to be an engaged, attentive, supportive and loving Father. He put his daughters first and always. He strove to teach them as much as he could - everything from riding a bike, to hitting a Wiffle ball "curve" to having confidence in themselves to forge their own path.

For such a huge, imposing and outwardly intimidating person to those who didn't know him, Phil Riley could best be described as a Gentle Giant. He loved animals of all kinds. He was generous and had a huge heart. Phil was the guy who would help a friend move in or would jump in his car to come and pick you up in the middle of the night if you were broke down. He was funny with a unique, sarcastic sense of humor that people gravitated to and his "portfolio of impressions" that he could do on different people kept us entertained for hours. He could also sing the Chipmunks Christmas Song perfectly! Phil cherished his family and friends. He was a lifelong Giants and Notre Dame die hard and was able to cross off several stadiums from his bucket list - to include Notre Dame and Lambeau Field - before his untimely passing. He was proud of his Irish lineage and was known among his friends for hosting the best St. Patrick's Day party every year in New York City - a tradition that continued for more than 20 years.

To know Phil was to be one of the lucky ones. We lucky few will celebrate the life of this wonderful, gentle giant on Sunday, February 14th from 12:00 PM - 3:30 PM at the Middlesex Funeral Home (528 Bound Brook Road, Middlesex, NJ 08846) followed by full Police Honors and processional at 3:30 - 4:00 PM.
During this ongoing pandemic, according to Executive Orders and the CDC
Guidelines, we kindly ask that face masks must be worn while visiting, to be mindful of physical distancing to the best of your ability, and are asking visitors to minimize time spent indoors to allow everyone a chance to pay their respects. We thank you for your understanding and for taking these precautions during this difficult time.
Memorial Visitation
12:00 pm - 3:30 pm
Sunday, February 14, 2021
Middlesex Funeral Home
528 Bound Brook Road
Middlesex, New Jersey, United States
Services & Eulogies
2:30 pm - 3:30 pm
Sunday, February 14, 2021
Middlesex Funeral Home
528 Bound Brook Road
Middlesex, New Jersey, United States
732-968-3377
Police Tribute and Procession
3:30 pm - 4:00 pm
Sunday, February 14, 2021
Middlesex Funeral Home
528 Bound Brook Road
Middlesex, New Jersey, United States
732-968-3377
Share Your Memory of
Phillip