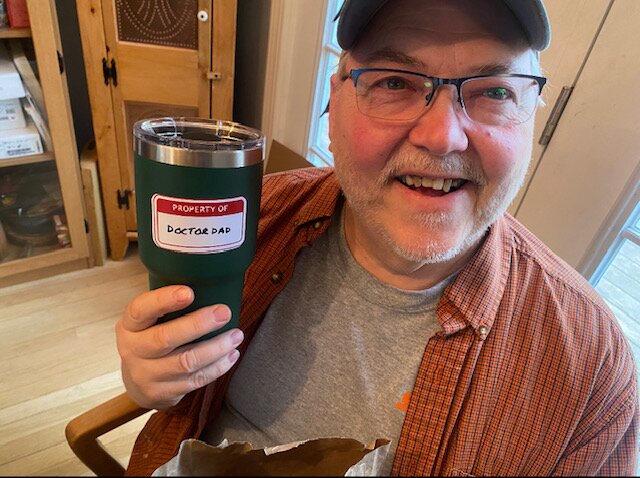 Obituary of Dr. David Charles Nuber
David C. Nuber, age 65, passed away on September 17th, 2021 at Robert Wood Johnson Hospital in New Brunswick, New Jersey surrounded by his four children, his loving wife, and attention-loving dog.
Dave was born in Bayonne and raised in South Plainfield, NJ. He was an excellent older brother to his siblings, Paul and Barbara. His mother, Joanne, described him as a "creative and studious" child. David grew up in a bustling, active household with his parents, siblings, and many, loving pets. He would travel throughout his lifetime, but eventually return to his hometown to raise his own family.
He was a lifetime learner and attended The Ohio State University and earned his Master's in Public Health/Doctorate in Epidemiology from Rutgers University. Dave was working on a second Doctorate in Genome Sciences. He was highly intelligent and analytical, with a hope that his continued education would help him make a difference in his field. He achieved many education honors including induction to the Golden Key International Society and the National Graduate & Professional Student (AEL) Honor Society. He was researching the association of studies of dental caries and how oral diseases and disorders could be prevented. He fundraised for the charities Operation Smile and Doctors Without Borders.
When asked about pursuing an advanced degree at his age, Dave responded that he had "a passion for discovering new knowledge" and that he "hoped his research would make a difference." He encouraged anyone similarly motivated to "GO FOR IT!"
Dave was not only a dedicated academic; he was an active member in his community and had so many creative outlets and hobbies. He loved to sing as a tenor in his church choir (and with his wife, Geralyn, around the house, loudly) and had even performed at Carnegie Hall with the Rutgers University Choir as an undergraduate. He loved to go fishing, was an avid cyclist, kayaked whenever possible, tended to his vegetable garden, and just, generally, enjoyed being outdoors. He often went to the shore with his wife and children and they have many fond memories of Sandy Hook and Cape Cod vacations. He learned how to sail from his father, Charles Nuber, and attempted to teach his children. (Unfortunately, his wife was a true landlubber!)
Dave was a loving husband and a very proud father. When he dropped his children off at school he would shout loudly to them, "Have a good day! Go show them what Buckeyes are made of!" (A reference to his especially enthusiastic support for all things Ohio State!) Another good example of his family pride surfaced every year at Thanksgiving dinner. This was always his favorite holiday: when he could sit down at a table laden with a bountiful spread, turkey roasted to perfection as the centerpiece, with his family all around. He loved cooking from the crack of dawn and shooing everyone else out of the kitchen so he could prepare them all a delicious Thanksgiving meal (his wife, Geri, was the only one who was exempted from this kitchen ban).
Dave and Geralyn shared a close, loving relationship. From New Jersey to Ohio to Pennsylvania and finally back to New Jersey, the couple built a family together. Dave was an affectionate husband who once wrote about his wife, "No matter where we've been, home is always where we've laid our heads down at night. And the best part of every day is seeing her face on the pillow next to mine when I wake up in the morning. To begin and end each day with her for the past 35 years is more than words can describe."
Share Your Memory of
Dr. David