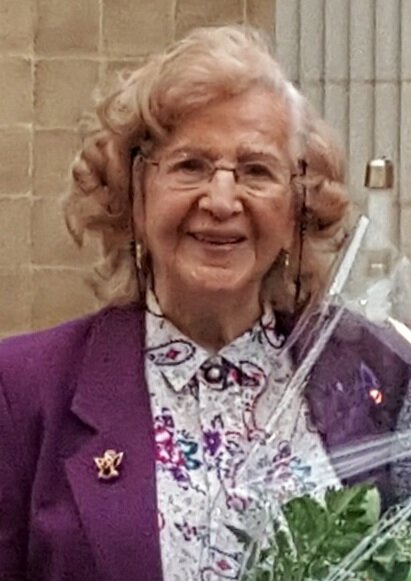 Obituary of Luz Maria Arroyo
Luz Maria Arroyo, 94, of Somerset New Jersey, passed away Wednesday, January 12, 2022, at St. Peter's University Hospital - New Brunswick.
Born in Aguadilla, Puerto Rico, Luz moved to the United States in 1946, where she resided in Manhattan, New York. In 1950, Luz married John Hector Arroyo and they settled in Brooklyn, NY.
A talented seamstress, Luz ran a small sewing business out of her home in Brooklyn while raising her children, which included interior décor, clothing, and several wedding gowns. Along with sewing, Luz was a skilled cook and an avid writer. These two passions met with the writing of a cookbook. Luz also authored several short stories over the years.
Luz also worked as a Financial Administrator/Investigator for two hospitals in Brooklyn for approximately 30 years where her compassion assisted patients in meeting their financial needs during difficult times.
Luz was an active member of the prayer group at St. Columba Church in Brooklyn and was active in their Eucharistic Ministry. In more recent years, she was inducted into the Order of Saint Francis.
Luz enjoyed music, dancing, bowling, cooking, and spending quality time with family and friends. She was also a Girl Scout Leader for 10 years.
Predeceased by her husband John Hector Arroyo, Luz leaves behind her four children; John Arroyo, Jr. of Brooklyn, NY, Robert Arroyo and his wife Donna of Prescott, AZ, Darlene Arroyo of South Plainfield, NJ, and Diana Landrum and her husband Fred of Piscataway, NJ, six grandchildren, and several great-grandchildren. She is also survived by her sister, Blanca, and brother, Epifanio.
Family and Friends may attend the visitation on Tuesday, January 18, 2022 beginning at 9 am in the South Plainfield Funeral Home, 2456 Plainfield Avenue, South Plainfield, NJ
Following the visitation, a funeral mass will be held at 11 am at The Church of Sacred Heart, 149 South Plainfield Avenue, South Plainfield, NJ.
A memorial service will also be celebrated at St. Columba Church, 2245 Kimball Street Brooklyn, NY 11234 at a future date (to be determined).
In celebration of Luz's life, the Arroyo Family would also like to invite friends and family to wear a red item in remembrance of Luz as this was her favorite color. In lieu of flowers, a donation to the American Heart Association is appreciated.
During this ongoing pandemic, there will be no gathering after the services. The Arroyo family mandates face masks be worn and social distancing respected during visitation. We thank you for your understanding.
Visitation
9:00 am - 10:30 am
Tuesday, January 18, 2022
South Plainfield Funeral Home
2456 Plainfield Avenue
South Plainfield , New Jersey, United States
908-756-2800
Funeral Mass
11:00 am - 12:00 pm
Tuesday, January 18, 2022
Sacred Heart RC Church
149 South Plainfield Avenue
South Plainfield, New Jersey, United States